1. Polaroid Camera
I severely want one of these. Partly for the ability to take and see pictures instantly, partly because the quality is always a little different than any other kind of camera. And there's something so vintage about a small, white-framed photo tacked on somewhere.
2. Camera Bag – From GetReadySetGO
Why this one? It's yellow. It's large, durable, has extra pockets, and a nice handle. It's also yellow.
3. 70s Wedges – From Juicy Couture
Perhaps not these specific ones, but this general idea. I want them for my wide-leg jeans, my crazy shorts, and my floaty dresses. Leather and wood.
4. John Lennon sunglasses
Mostly because I just need sunglasses. I lost the five-dollar pair I'd had for over a year, and this kooky style really appeals to my lately seventies obsessed sensibilities.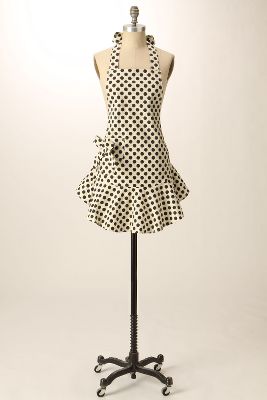 5. Frilly Apron – Anthropologie
As I cook quite frequently, or bake anyway, I must have a cover-up, for my clothes are otherwise in danger of being mussed. And frilliness and polka dots are just fun. Aprons should be fun, I think. A bit whimsical too.
7. Kidsilk Haze yarn from Rowan
This yarn I've been dreaming of for a very long time. Fine mohair and silk, like knitting clouds and dreams. Only acceptable for filmy fairy shawls and the like. I'll take thirty please.
OTTERMEI